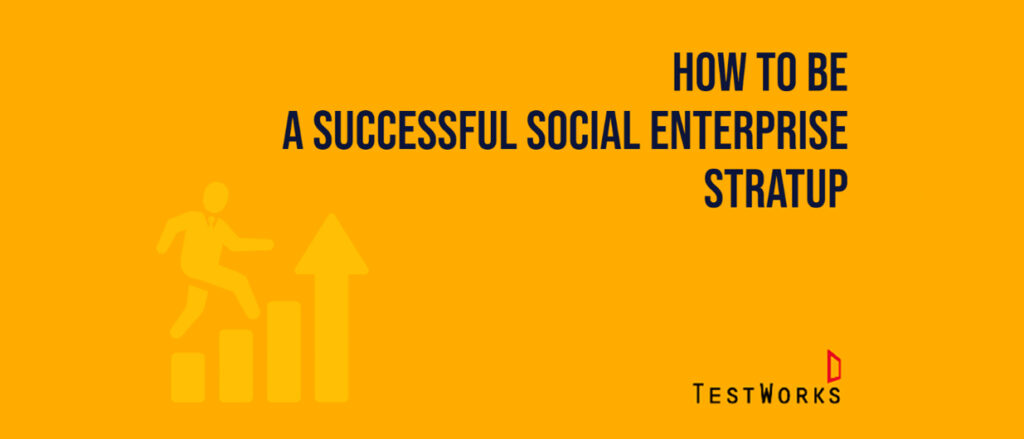 Job Opportunity for Disadvantaged Groups
Summary of the Testworks' Case Study mentioned in Dong-A Business Review No. 293 (Issue 2 in March 2020) You can find more detailed information in the Original Article.
Testworks was established in June 2015 as an AI learning data collection and processing and software testing company. Since then, Testworks has been standing out as a social enterprise considering its growth and inclusive job opportunities for disadvantaged groups.
CEO Dale Yoon started Testworks after leaving his former company, Samsung Electronics, when he was at the ripe age of 44.
I set up the company to offer an opportunity for disadvantaged groups.
It was his clear initial objective.
The CEO finished his master's degree in computer engineering at Cornell University in the United States and worked for Microsoft and Samsung Electronics before opening up his own business, Testworks.
CEO Dale Yoon dreamt of making a startup with his memorable experience teaching a North Korean defector and helping him successfully get a job.
Beginning of the Test Education
After establishing Testworks, the founder educated career-interrupted women to be software testers and, in 2016, had a chance to deliver a software testing education session to people with developmental disabilities.
In 2016, CEO Jeongtae Kim of Merry Year Social Company (MYSC) contacted him. The founder of MYSC asked whether Testworks could participate in vocation training and social adjustment program "Autism@Work" for people with autism. He wanted Testworks to have an IT software testing education program reflecting Testworks' professionalism.
With that chance, CEO Dale Yoon was able to prepare the basis of a software testing lecture for people with developmental disabilities, referring to the advice from CEOs of existing social enterprises who have employed them.
After Autism@Work project, the founder of Testworks received an AI data processing proposal from an automatic driving startup while considering job opportunities for people with developmental disabilities. Testworks hired three people with developmental disabilities who were trained by Testworks and four career-interrupted women to create a task force and initiated AI data processing work in 2017.
Sincerity, Proved with Quality
At the beginning of the AI data processing project, the business was not going well. The main problem was complaints from clients that the data processing quality was not satisfying and it was hard to communicate with people with developmental disabilities.
At that time, the president visited the client companies in person and persuaded them to offer two months quality assurance period. He established an inspection process for data quality management and an internal system for efficient communication with clients.
After introducing the inspection system and changing order methods and communication methods, the data quality increased and complaints from customers had visibly dropped, which led to continuous customer relations.
People with developmental disabilities are highly sensitive, even with a trivial thing that people without disabilities may overlook. Thus, it is extremely important to be patient and specific when talking with them as much as possible. The career-interrupted women clearly have advantages in that matter. When they explained detailed feedback from customers, the workers' job performance with developmental disabilities had remarkably improved.
"As Many As Possible" -> "As Long As Possible"
However, after the project, one of the three employees with disabilities submitted his resignation after six months of employment as he was not able to keep up with his duties. That could happen at any time regarding that there was not an internal system to supervise staff members with developmental disabilities.
CEO Dale Yoon rebuilt a recruiting system and had changed his goal to hire people with developmental disabilities from "as many as possible" to "as long as possible." Testworks sign a contract with new staff members after three months of probationary period with several recruitment processes to check their workability. An internal management system has been developed after ceaseless research, such as even visiting companies overseas and dispatching a full-time job coach to compliment workers with developmental disabilities or give detailed explanations.

Testworks' people with developmental disabilities management system
Open Clients' Mind with Automation
While establishing the management and supporting system, Testworks has achieved an exclusive developing solution all-embracing AI data collection and processing and automation with the continuous investment in technical development for better customer service.
Testworks has more than 50 client company types, including international businesses, domestic conglomerates, startups, public institutes and organizations.


There are several noticeable facts in Testworks' success.
As Testworks had a strong competency with professionalism and business practice experience in the IT field before starting the company, Testworks could establish a B2B business model. The founder, Dale Yoon's social entrepreneurship created social values and met society's needs by focusing on essential issues. Testworks had participated in small but significant public tasks collaborating with diverse institutes to generate impacts.
Testworks has been practicing the mission, "Social Innovation with Technology," by settling the core technologies in the 4th industrial revolution such as AI dataset construction and automation platform and providing job opportunities to disadvantaged groups transcending their "differences" into "talents."
You can find more detailed information in the original DBR article.